11 days still left to begin US presidential election. Gossips already started about the next President of United States of America. This time both the candidates are equally stronger. They have capability to challenge each other so it is difficult to predict who is going to become the next president of USA.
Some sources already declared Donald Trump as the next president of United States of America.
The real winner will be heard on result day only.
According to #Inviul point of view, Donald Trump is very decisive and conservative in approach. He will do something best for America for sure. He will definitely bring some revolutionary changes in terms of economics. In another side Hillary Clinton has another advantage. She is in various position in government since long back so she is familiar with diplomatic relations. Other leaders of the world will feel comfortable to work with Clinton since she is the known face.
Both Trump and Clinton have their own approach, policy and planning for the welfare of the people of Unites States of America.
We have to understand their vision to strengthen Indo – US relationship. We have to watch who is going to take Indo – US relation higher which is established by Prime Minister Narendra Modi and President Barak Obama!
Discussion begins…. Trump or Clinton!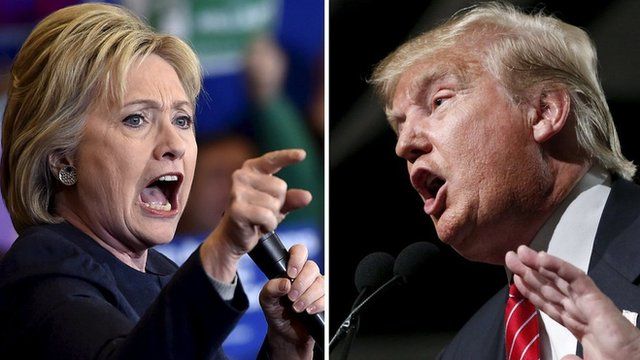 Now our discussion begins!
Who will have broader vision for India, Trump or Clinton?
Trump has already cleared his intention towards Indo – US relationship. It can be seen in his campaign. He is not making any stone unturned to please Indians who is settled over there in America.
PM Modi and President Obama already removed ideological gap between India and USA.
Views on Donald Trump
First and foremost thing Trump has straight forward approach against terrorist organizations that are taking birth in Pakistan and surviving there. Trump will take strict action against Pakistan. Most probably He will stop all economic support to Pakistan.
Secondly, America has very keen interest in South China Sea to open international trade route for all. Even current Obama government has also taken action to remove all sorts of barriers provided by China in the Sea route. South China Sea is very important to expand International Trade and Commerce. So as Trump has more clear and conservative thought against China in terms of Sea route.
Thirdly, Trump seems great fan of PM Modi. In his campaign he clearly confronted that he wants to apply Modi's policy in USA. His recent campaign's slogan is inspired by Modi's Slogan. It has been seen saying, "Abki bar Trump Sarkar".

Video Credit: Viral Baba
Fourthly, Trump can expand the H1B immigrant visa. It will help software guys to work in USA.
Views on Hillary Clinton
Let's discuss the HillaryClintonn's policy for India.
Hillary Clinton is much known entity for Indian Diplomats. She had been first lady of America and Secretary of States so she is well aware of the Indo – US Relation. Indian politicians have cordial relations with her in terms of diplomacy and foreign policy. She will definitely try to expand the relations developed by Modi & Obama. She was not in any controversy, whereas Donald Trump gave unacceptable comment on Indian BPO guys.
In a Nutshell, We can conclude both the candidates have better views for India. They want to work well with Indian government in all aspects. At the end they must focus to counter terrorism which is getting produced in the neighbor states of India.